Rosemary honey 1 kg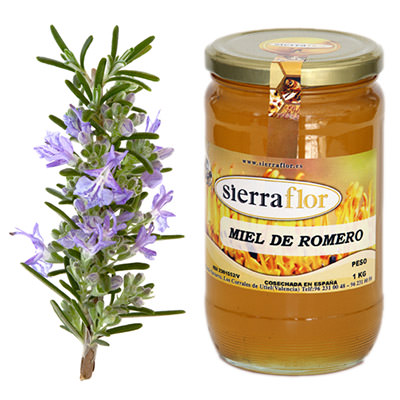 Product Availability: In stock
The rosemary honey is quite thick, of amber clear colour that when crystallizing acquires a whiter colour and a harder texture.
This honey is produced by bees that mainly shed rosemary flowers. It is harvested in April in the slopes of the Cabriel, term of Mira in Cuenca and in the slopes of the swamp of Benagéber (River Turia). They are intense hills in which outstanding rosemary abounds.
The aroma is not very intense and of average persistence with floral tones. In the mouth increases the intensity of the aromas having a very mild flavour.
It is a honey rich in lithium so it is tonic, digestive, expectorant, balsamic, antirheumatic and disinfectant.
Among the many benefits of consuming this honey from Romero we highlight the following:
Ideal to prevent diseases of the digestive system being very digestive in most people.
It helps in digestion, acidity etc maintaining a healthy liver.
A good ally for the fight of mental illnesses to combat bad memory, dementia, depression, bipolar disorders etc.
Its balsamic and antiseptic properties are very good against respiratory diseases such as bronchitis and a cold.
Improves the blood flow to the scalp favouring hair growth.
 
"From the virtues of rosemary could be written a whole book" already says the saying and is that after listing some of these what we can best do is invite them to try it as it is also a very tasty honey that we hope you like it as much as we .
There are yet no reviews for this product.
Your cart has been updated