Red onion (kg)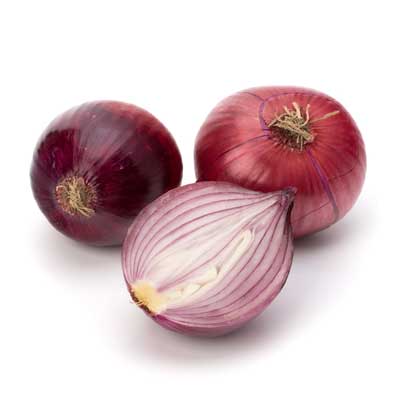 Product Availability: In stock
The red onion is also known as purple onion. It is sweet with a slight spicy touch. Its skin is white and has good conservation.
Red or purple onions are usually eaten raw, roasted or lightly cooked with other ingredients. Also it is very frequent to add them to salads by the touch of colour and flavour that these contribute. Colour which by the way is lost when cooked. Despite its spicy touch it is sweeter than other varieties.

They are large bulb onion cultivars with purple red skin and white flesh with reddish hues.

The red onion tends to be medium to large in size and has a sweet taste.

It is an onion that can be used in both stews and to consume in fresh as it is especially suitable for salads because of the attractive colour and the appearance that gives the dishes.

Red onion is richer in antioxidants than white, the pigments that give it its characteristic colour are also responsible for preventing serious diseases such as cancer or heart ailments. They help to preserve the memory, to delay the aging to the correct care of the digestive system. They also help regulate blood glucose levels. These red onions have a hypoglycaemic effect and stimulate the segregation of pancreatic juice that helps break down proteins, fats and carbohydrates from food.
Tuesday, 09 December 2014
La descripción coincide con mi experiencia, es mas bien picante
A S R
Your cart has been updated