Raf tomato (kg)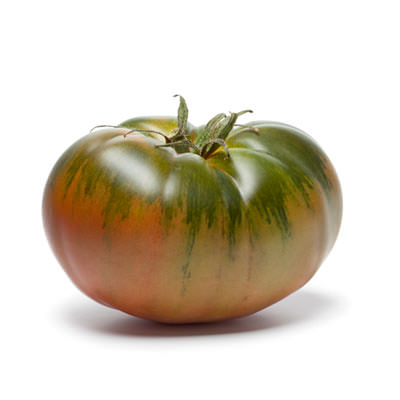 Product Availability: In stock
Raf tomato is a sweet fruit due to its to its perfect combination of sugar and acid that makes it delicious even eaten raw with salt and olive oil.
Raf tomato is a traditional tomato of the Marmande type that has a high tolerance to saline waters and is cultivated mainly in the zone of the Almerian Levante.
It is a fleshy tomato with few seeds and water. It has a good balance between sugars and acidity, is full of mineral salts and aromatic substances that makes its taste unmistakable. Ripening occurs from the inside out. The pulp inside has a rosy color, with a compact texture, very firm and juicy.
Its shape is irregular with deep grooves that terminate in the center, with a flattened shape and flattened at the ends. It has an intense green color with an almost black touch at the top.
The RAF name refers to the Resistance A Fusarium being the first resistant variety and for that reason the Raf tomato is denominated like this. It is important to note that it is not a hybrid tomato but a variety obtained through the selection of traditional tomatoes.
This tomato has a delicious sweet taste and that is why it is one of the most consumed and appreciated by the lovers of tomatoes.
History and origin of tomato Raf
This tomato originates from a crossbreed made in 1961 between the tomato Marmande Clause 27 and a variety of tomato from the United States resistant to Fusarium.
Raf tomato was registered by the French company Clause in the record of varieties of France in 1967.
Since its registration the tomato was cultivated and developed in Spain, especially in the areas of Murcia, Alicante and Almeria where today we continue to locate the best fruits of this variety. Highlights among these areas Almeria where Raf obtained the best results in adaptation and acceptance of the new fruit.
The emergence of later hybrids limited the Raf's production exclusively to saline waters, limiting its production to an exclusive quality Extra tomato.
Although the seed is of French origin, the tomato Raf is a 100% tomato from Almería and only the farmers of this area know how to grow this unique product in its salt water habitat suitable for a delicious fruit of good caliber light years of new varieties Cultivated in a simpler and numerous way, but without the quality of the original Raf tomato.
No tienen apenas sabor, sólo presencia
Almudena
tomates de muy buena calidad y el envio como siempre llego rapido
Jose Anselmo Caceo Forcada
como pone en la descripción hasta pa comerlo solo es bueno con aceite. que placer de tomate de campo
Cesar Cainzos
Tienen un sabor muy intenso, y están muy buenos.
maria aurora vergara pulido
Muy buena relación calidad precio ...repetiré.
Enrique
He pedido 2 veces y ya ya a ser la tercera.Calidad precio muy buena.Muy buen sabor.
idoia villacastin lasa
TOMATES MUY RICOS Y JUGOSOS
LUIS
Es la primera vez que compro tomates, ya que solo compraba naranjas y me han gustado mucho y a buen precio.
Mª del Mar López López de
es un tomate con sabor a tomate, que pocos hoy en dia saben a algo
jota
Tomates riquísimos y a un precio estupendo, como siempre el servicio genial. Recomendable
MARTA GARCIA SAN MIGUEL
muy ricos con sabor
ITZIAR
muy buenos!
repetire!
alex sala
barcelona
alex sala sarra
creo que es de vuestros mejores productos
Julia Gonzalez Calvo
buenisimos estos tomates y el precio increíble
Mª Carmen Martinez
Your cart has been updated