Pardina lentil (kg)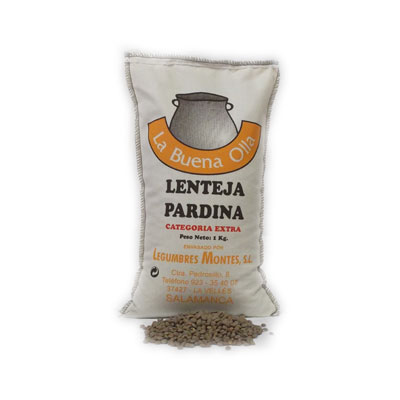 Product Availability: No stock
The pardine lentil is easily recognizable by its brown colour and its small size. This lentil provides a lot of colour and exquisite taste to the broth.
It is one of the most widespread varieties. Its name "pardina" is associated to the colour that is either brown or reddish brown.
It can be cooked without previous soaking thanks to the softness of the skin as they are easy to cook.
They are rich in iron, phosphorus and carbohydrates.
It receives different names in some regions, among them: baby doll, French lentil, francesilla or brown lentil.
Once cooked, it is kept whole with a very fine skin. Its interior is soft and creamy to the palate.
The pardine lentil is ideal for the preparation of soups because of its small size since the diameter of this lentil usually varies between 3.5 and 4.5 mm. This also prevents it from being soaked for a long period before being cooked, it is usually soaked for a few minutes although this process is not necessary in this type of lentil and are widely used in dishes such as lentils with sausage and even in salads .
There are yet no reviews for this product.
Your cart has been updated