EVOO with rosemary (250 ml)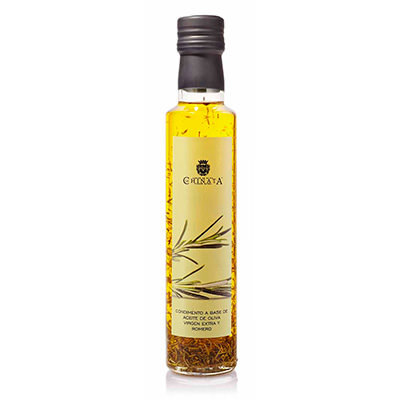 Product Availability: No stock
Condiment based on extra virgin olive oil of high quality flavoured with rosemary leaves that brig us this gourmet product.
This condiment is made with EVOO of maximum quality flavoured with rosemary leaves selected one by one to obtain a seasoning with the body of EVOO and the fresh taste with bitter tints of rosemary, a classic plant in traditional Mediterranean cuisine.
It is an ideal product to be used in different meat dishes such as veal, lamb, game and even pork.
It is also highly recommended in fish such as sardines or mackerel, ie in the fat and tomatoes, cabbage, eggplant, beans or with mushrooms and mushrooms. This seasoning is also used in more traditional dishes like stews, soups, roasts, sauces, sofritos, rice or pistos.
esta gente sabe lo que hace porque los trozos están en su justa medida para dar un sabor estupendo, hoy os pido de albahaca y limón a ver si son igual de buenos.
Mikel Torre
el aceite es bueno y se nota con el romero en la ensalada es deliciosa, la botella está muy bien presentada para una mesa
Maria Rosa Lomba Martinez
Your cart has been updated