EVOO with lemon (250 ml)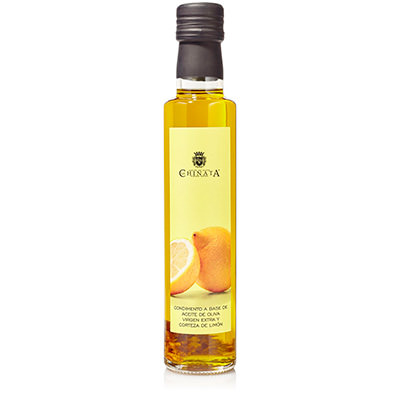 Product Availability: No stock
Condiment based on extra virgin olive oil of superior range and a selection of lemons that contribute an aroma and citric flavour to the dishes.
This condiment could not be lacking in our greengrocer since it is an aromatic oil made with extra virgin olive oils macerated with selected lemons of superior quality that give a fresh aroma to citric with a touch of acidity to our dishes.
It is a very suitable product for fish, seafood, rice, chicken, pasta, salads, sauces, hummus or baked goods.
Estábamos entre este y el de romero y al final hemos probado los 2, el primero en ensalada da un sabor buenísimo y este con la merluza al horno me ha enganchado. Me gusta el trabajo que hacéis informando de todo.
Luis Merlo
Your cart has been updated