Christmas special fruit box 10 kg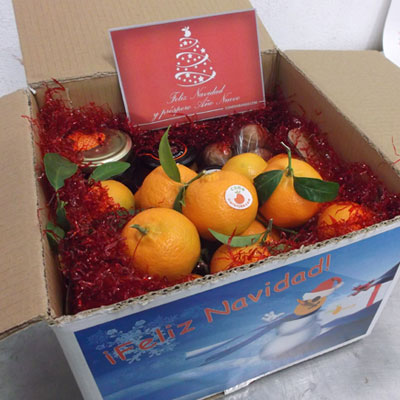 Product Availability: No stock
Special box of products from Spain containing 9 kg of extra quality delicious products from Valencia. A Gourmet batch yet economical with Muscat wine, oranges from Valencia, an awarded olive oil, clemenules clementines, Valencian rice and artisan jam.
9 kg special gift set
We are proud to present the christmas special gift box.
A selection of our best oranges and clementines together with artisan top quality products for your loved ones, family, friends or customers.
A nice gift for a special time of the year.

The box contains:
1 bottle of extra virgin olive oil 250 ml.

3 kg of freshly picked Navel oranges.

1 bottle of Muscadine wine 75 cl.

1 kg of rice from Valencia.

400 gr of artisan jam.

2 kg of Clemenules clementine.

1 customized greeting card.



A healthy and stylish gift that brings joy for everyone on these special days.

You can include a personalized card if you wish, write your message in the note of the order that will print on the card.


There are yet no reviews for this product.
Your cart has been updated