Balsamic vinegar of Modena (250 ml)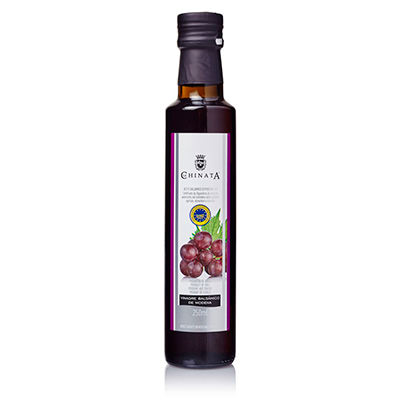 Product Availability: No stock
Balsamic vinegar of Modena is ideal as a salad dressing and as an accompaniment to cold and hot dishes.
It is of Italian origin, in particular the Emilia-Romagna region of northern Italy.
Modena vinegar differs from other vinegars because it is made directly with the wine must and because in its production old and new vinegars are mixed to obtain the best result.
It has a strong, slightly sweet taste that makes it an excellent choice as a salad dressing. Because of its strong flavor a tablespoon per person is more than enough. It is also a good accompaniment of roast meats and multiple hot dishes adding just before removing from the fire.
It is called balsamic because formerly it was used as a remedy against the rheum by rubbing it as a balm against the affected part.
This vinegar matures in wooden barrels for 4 or 5 years.
Sediment may appear on the bottom of the bottle which does not mean a decrease in quality, but it is a natural part of this vinegar.
Thursday, 02 February 2017
barato y mucho más bueno que los tipicos
SAP
Por unos céntimos más merece la pena comprar productos de calidad y este vinagre es fabuloso
Maria Dolores Rodriguez
la botella es bonita como dicen abajo pero el aceto es una pasada y por el precio muy recomendable. me preocupaba al ser cristal pero me vino con papel de burbujas enrollado bien protegido.
Mª Carmen Martinez
Thursday, 26 January 2017
recibido en 1 dia y está super rico!! la botella es preciosa!
Angela Cejas Cardeñosa
Your cart has been updated